About Us
The One Thing Music Quiz® began quizzing in 2008. Created in Perth, Western Australia by radio announcer Sheridan Crofts, it is a music quiz like no other in existence. Original, creative, interactive and above all else fun, The One Thing Music Quiz® caters to all age groups and abilities. It appears at various hotels weekly around Perth and is available for private and corporate bookings Australia wide.
Bookings:
No matter what the occasion or the requirement, we can provide the best-suited quiz to your group. Quizzes are created individually for each booking based on your group's criteria eg age spread, average age, gender spread. The quiz is not designed for music buffs (unless requested), there are questions for all strengths and the focus is very much on fun and interaction rather than musical facts and figures.
Here are some of the types of quiz events we can provide:

Fundraisers
Teambuilding
Corporate functions and development days
Pubs and clubs
Mine site social events
School events (primary and secondary)
Club wind-ups and fundraisers
Theme nights
Social club events
For more information, a no-obligation quote or to make a booking please get in touch using the contact menu on the left.
Venues:
You can find The One Thing Music Quiz® currently at these venues every week:
Wednesdays – The Como Hotel, Como
Monthly – Piper's Inn, Halls Head
For starting times and venue information, please click on the Upcoming Quizzes link on the left. If your venue is keen to get The One Thing Music Quiz, get in touch!
Our Hosts: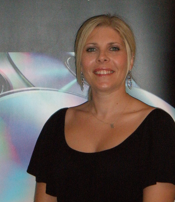 Sheridan Crofts
Never one for a 9 to 5 job, Sheridan has built a business on being able to sleep in, stay up late and talk endlessly about music. Having spent much of the last 20 years in the radio industry, both announcing and programming as well as a stint playing in bands around Perth, music has always been the inspiration.
That's where the idea for The One Thing Music Quiz® came from. Now she spends her days thinking up creative quiz questions, her evenings firing them off to quizzers around town in between announcing on Perth's MIX 94.5 FM
Lukey Bolland
Lukey is a big man around Perth. You may know him from stand-up comedy where he was a state finalist in Raw comedy 2 years in a row, from Explosive Pro-Wrestling where he has been commentator and host for the last 11 years or from his stint on the Larry Baxter breakfast show on 92.9.
But most likely though you will know him from The One Thing Music Quiz® where he spreads himself around at quizzes all over town. Here is a photo of him with former wife Delta Goodrem (taken during some of the happier times).
Ben Marvin
Mac McNaughton
Want to work with us?
The One Thing Music Quiz® is always on the lookout for prospective hosts and quiz assistants. If you are fantastically friendly, love music and are available for casual work in the evening, get in touch using the contact menu on the left. Hosts need to be confident with public speaking, have a decent knowledge of music and pop culture and able to use a PC, basic mixer and wireless mic.